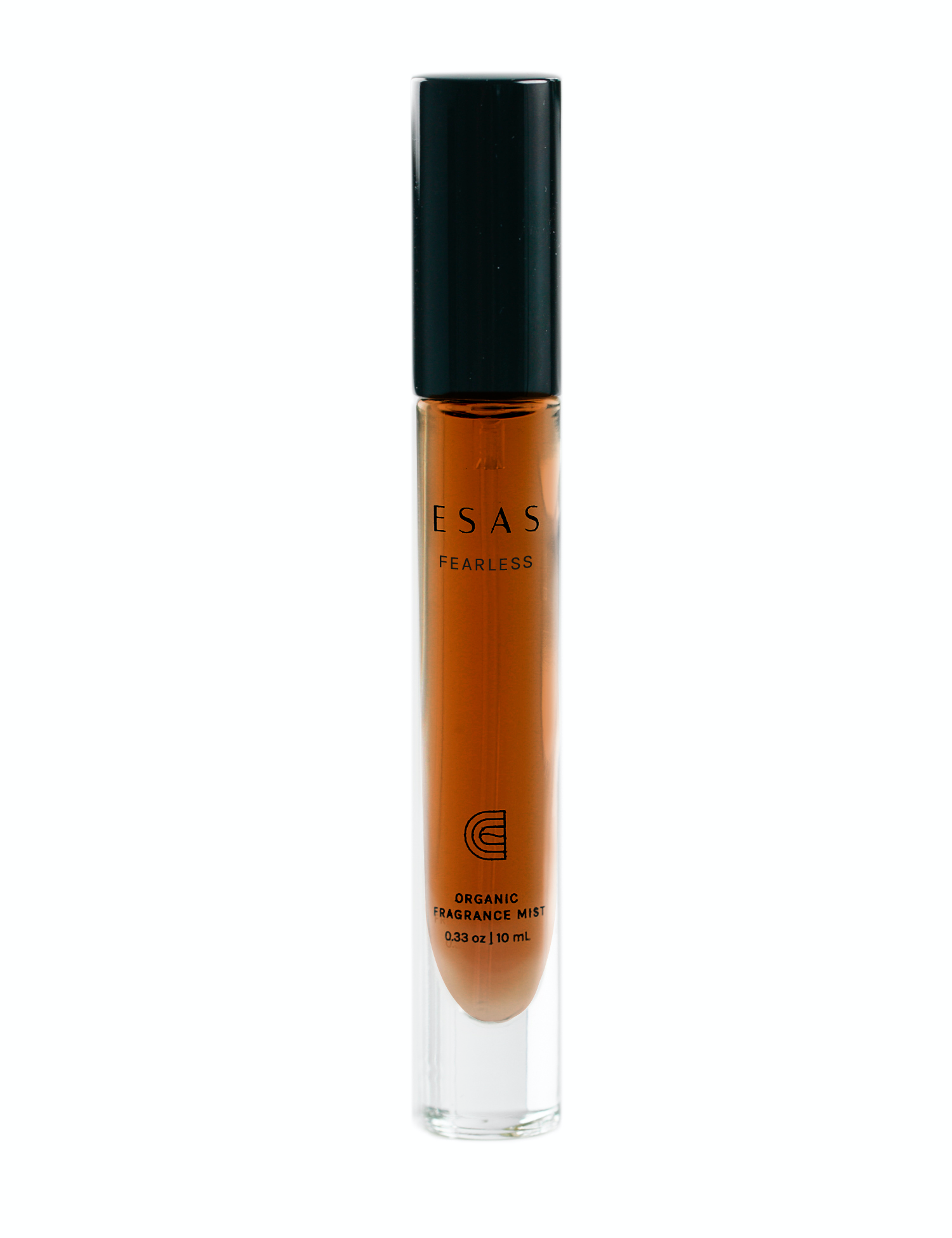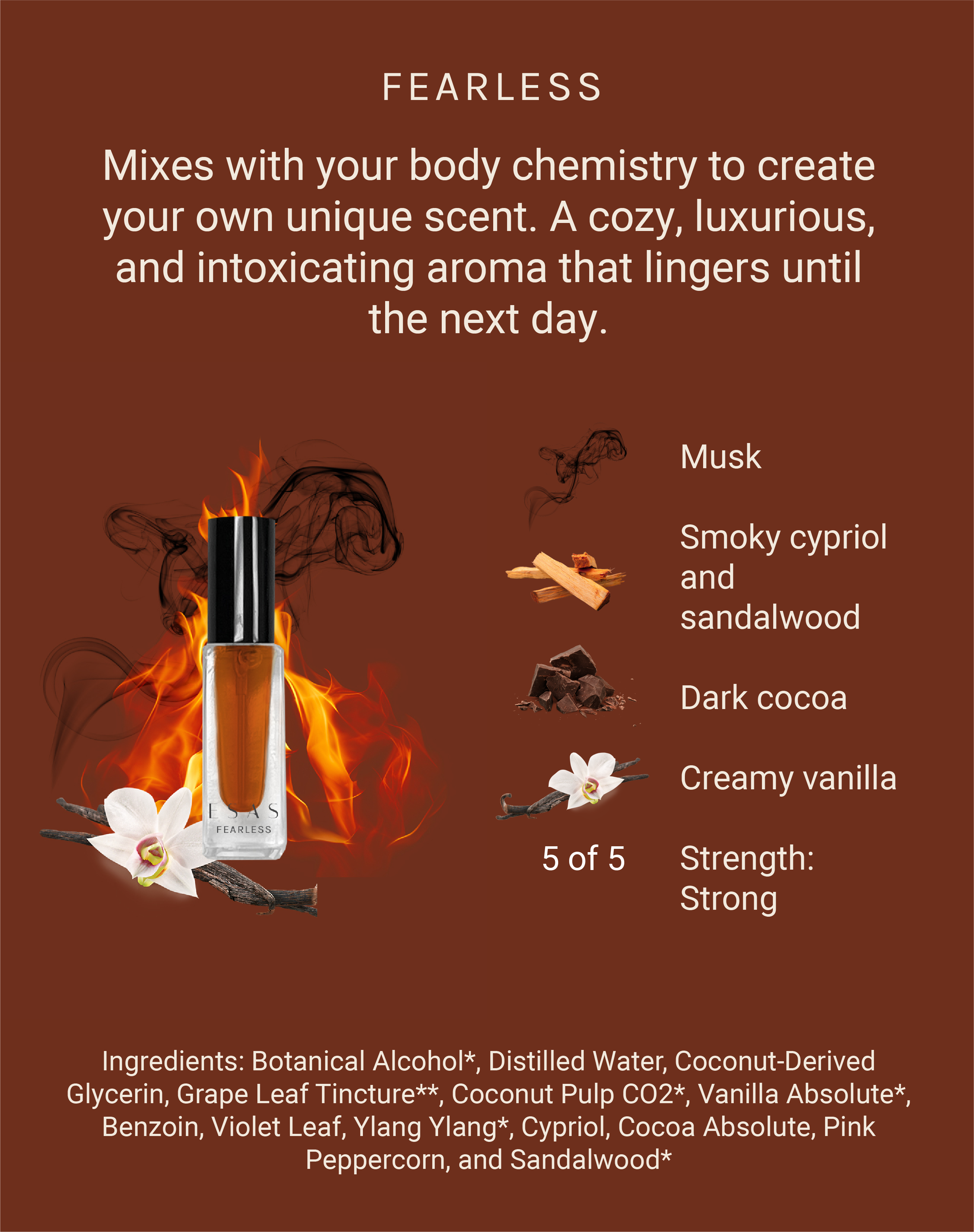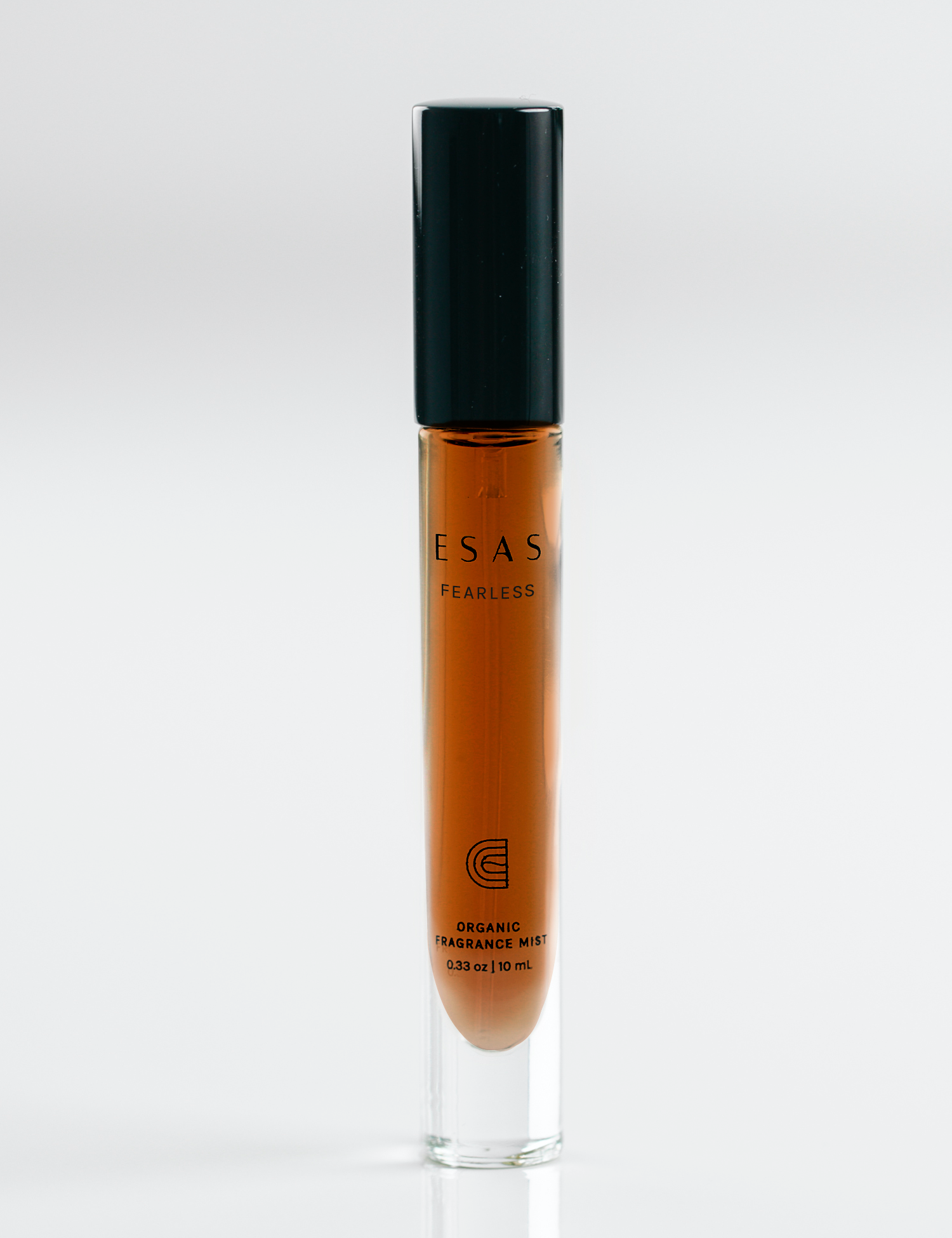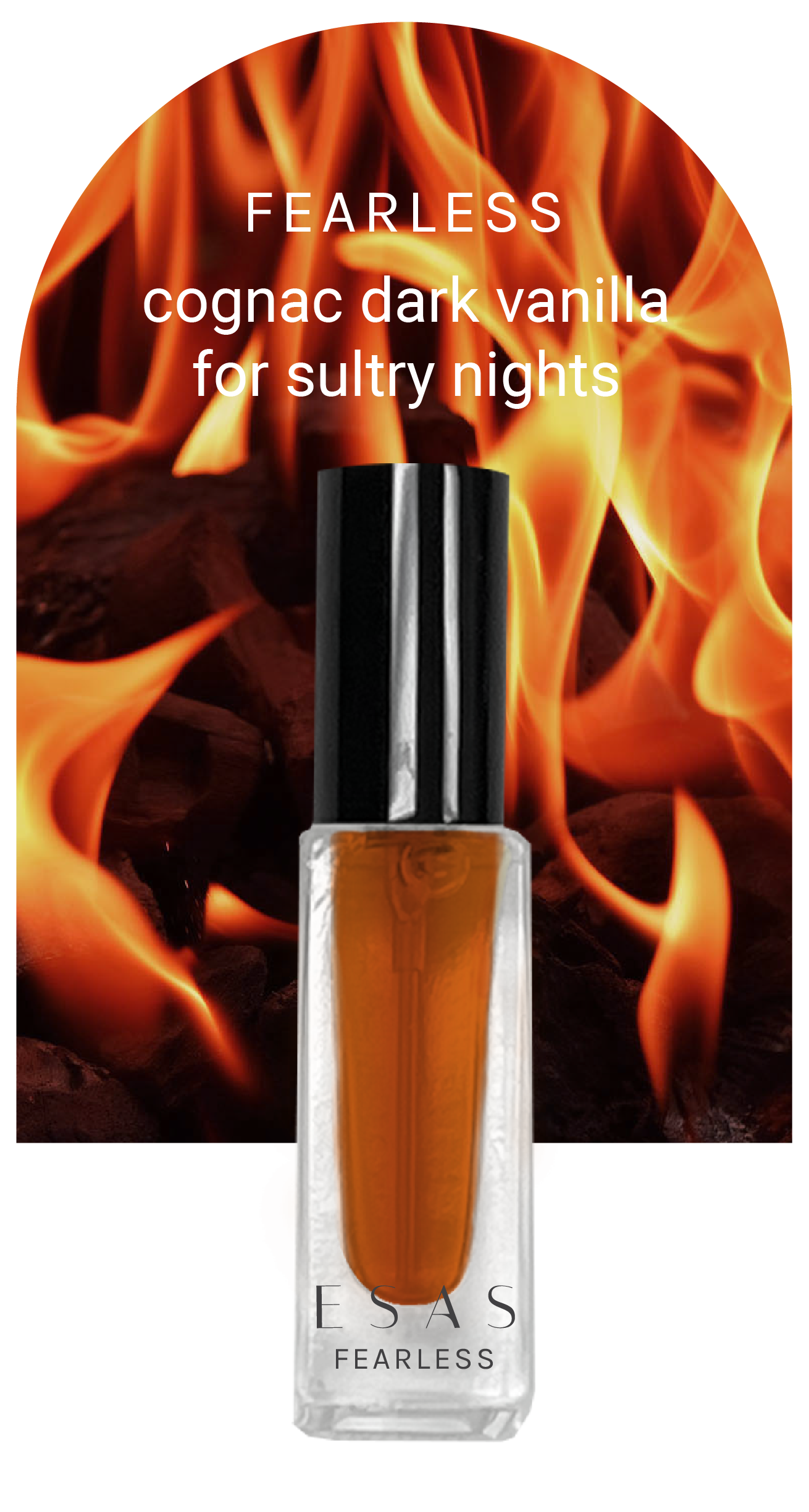 FRAGRANCE MOOD:
Fearless is an innovative scent formula that is unlike any other.  Specially formulated to empower and embolden the spirit deep within, it mixes with your body chemistry to create your own unique scent. Cozy and luxurious, Fearless is a vibe all of it's own. 

SMELLS LIKE :
In the top of the fragrance, sensual and mysterious notes of pink peppercorn add a touch of cold freshness to woody earthy tones of cypriol.  Decadent middle notes of cocoa absolute, creamy coconut pulp and warm benzoin create an addictive and intoxicating aroma that envelop the subtle lush and watery floralcy of ylang ylang and violet leaf.  Bottom notes of pure vanilla and creamy sandalwood come together to gratify your most carnal desires.  
This fragrance entangles you into an experience that leaves you gratified yet wanting for more.
FEELS LIKE: 
We wanted to make a fragrance that NOURISHES not dries our your skin. Moisturizing coconut glycerin free-radical fighting grape leaf extract, and organic alcohol hydrate the skin. 
INGREDIENTS & PACKAGING
70% Certified Organic Alcohol*, Distilled Water, Coconut-Derived Glycerin, Grape Leaf Tincture**, Coconut Pulp CO2*, Vanilla Absolute*, Benzoin, Violet Leaf, Ylang Ylang*, Cypriol, Cocoa Absolute, Pink Peppercorn, and Sandalwood*
 *Certified Organic and **Esas-Made
 At cooler temperatures, the normally clear organic coconut extract may become opaque, but will clear again in room temperature with no affect on product and fragrance performance.
Disclaimer: For external use only. Esas Hydrating Fragrance Mists are made with high-quality all natural ingredients and is not allergen-free.  The ingredients are recognized as safe for the skin. As everyone has skin that responds uniquely, we advise users to patch test inside the elbow and read all ingredients before using.  Stop use if irritation occurs. 
Our holistic approach to beauty includes eco-friendly packaging
Refillable glass bottle with aluminum cap
100% recyclable boxes with no added plastic lamination.
Compostable mailers
Fliers made with 100% post consumer recycled paper with eco-friendly non-toxic ink and are manufactured locally
Drop a hello at hello@esasnyc.com
Send us a text at 1 (844) 542-0456
Or mail at P.O. Box 934, Saddle Brook, NJ 07663
FEARLESS
Not as described
I wanted to support these ladies and like it. Upon first smell, it is heavy and not sensual or vanilla. After a few minutes, it warms up a bit. It isn't for me and it doesn't last.
Very woodsy
This fragrance is not what I was expecting. It reminds me of cedar wood or the scent of wood being cut with a bit of pepper and alcohol. I do not get the scent of vanilla, chocolate, or musk. I also find it fades away very quickly. I really wanted to love it, as the idea of a clean, good for you, perfume is wonderful and the description sounds exactly like a scent I would love, but it's not for me.
My new favorite vanilla
I'm always looking for a vanilla fragrance that I wear day and night. It's so sexy and I love it when my boyfriend wears it too
OBSESSED
I feel so sexy when I put this on! Like an instant confidence builder.