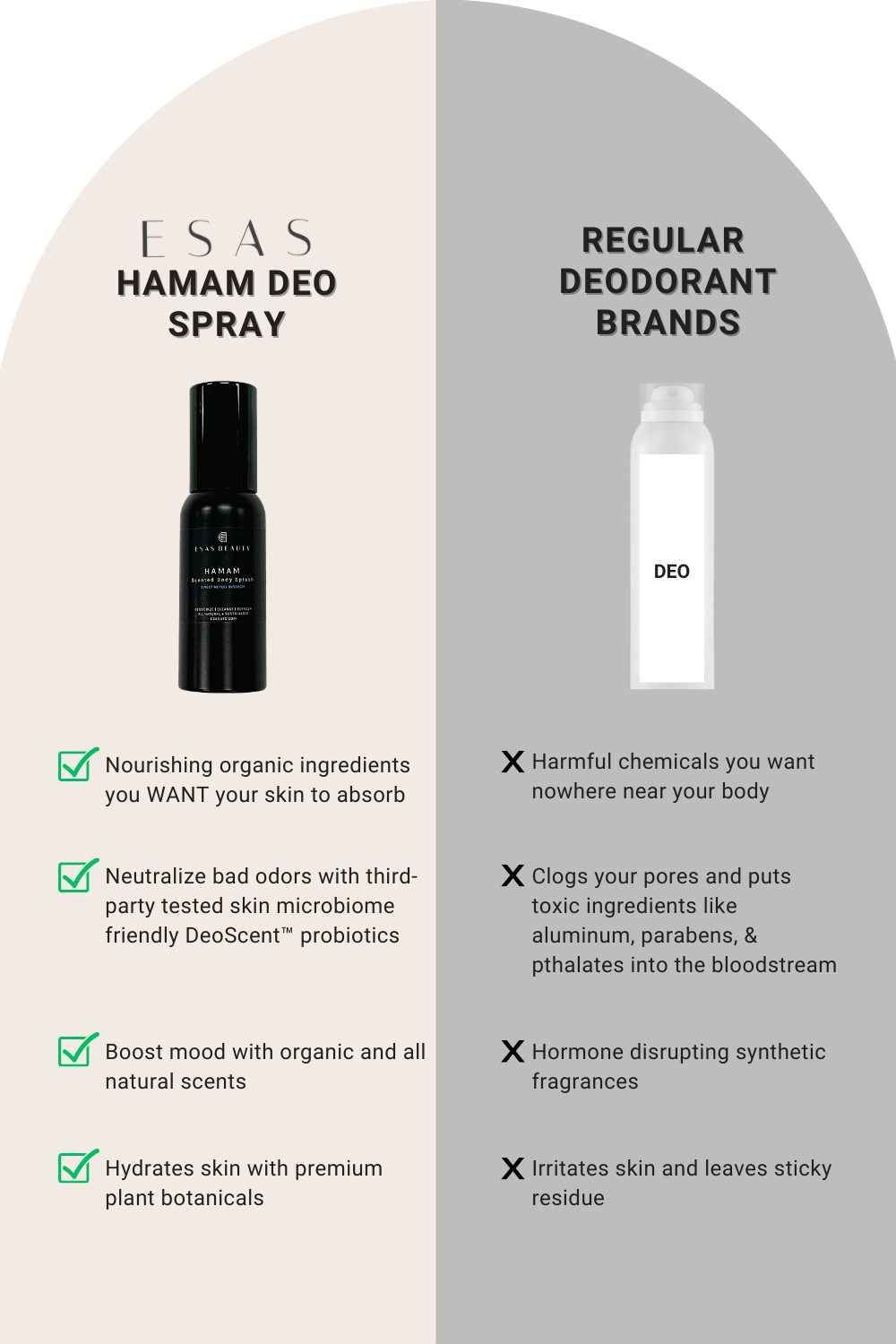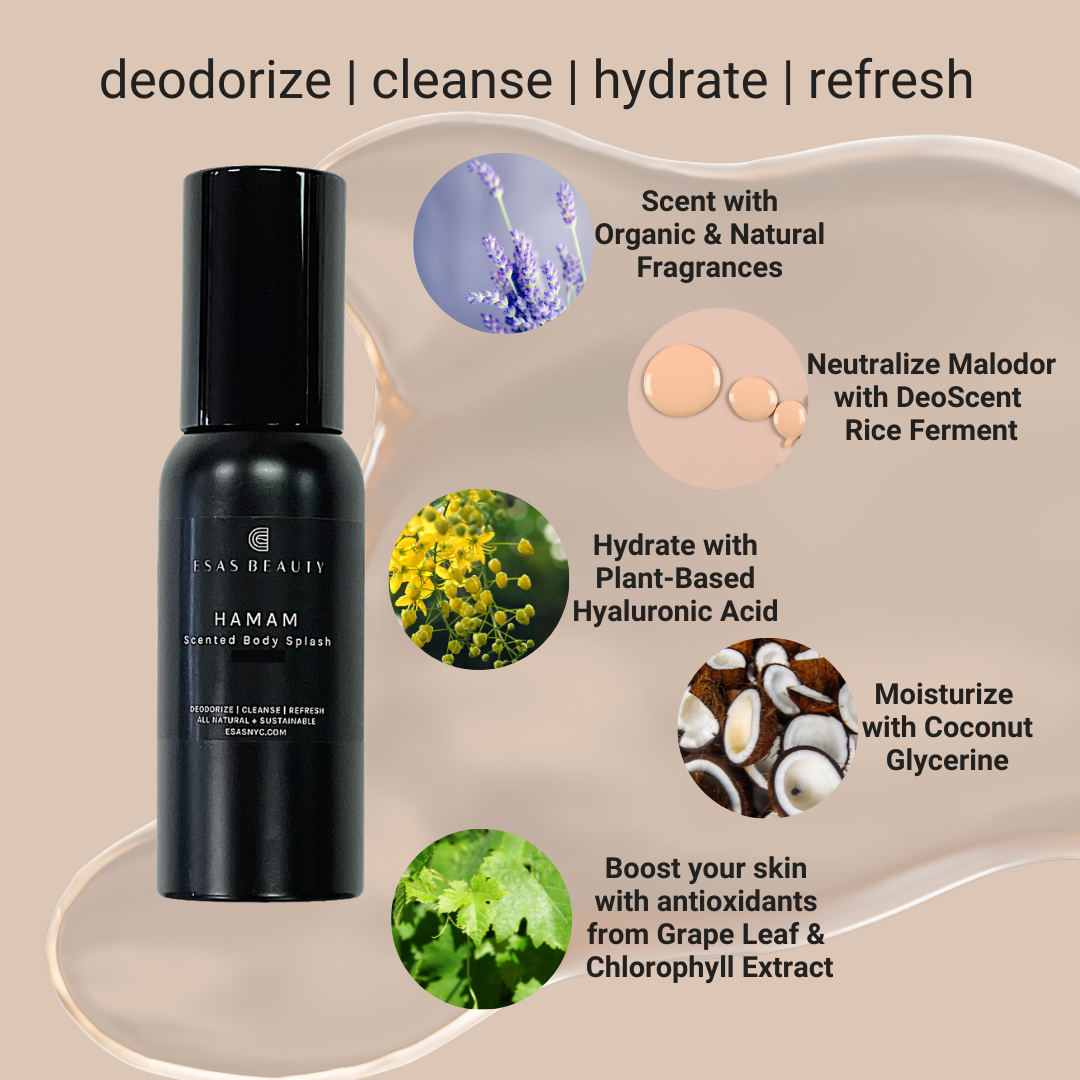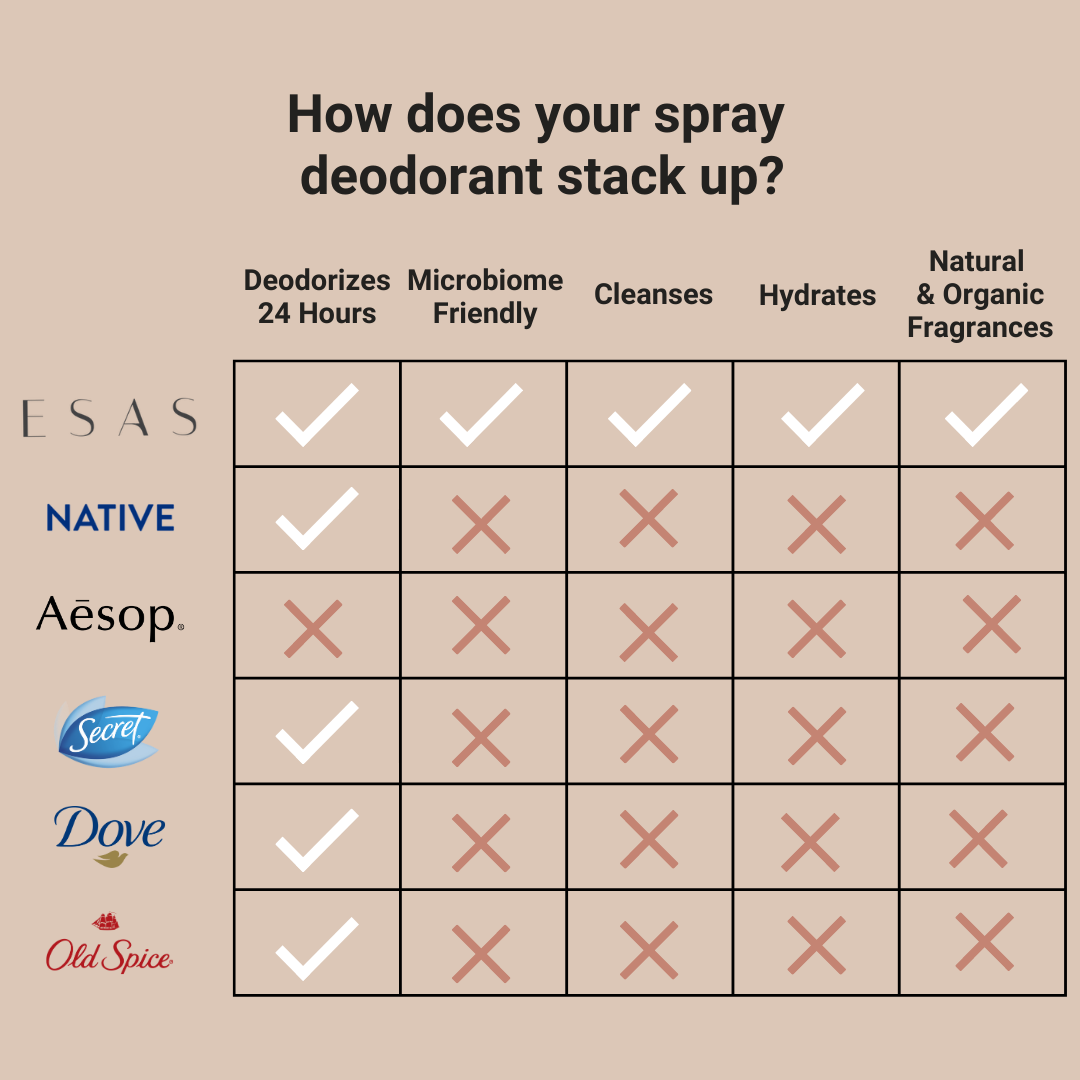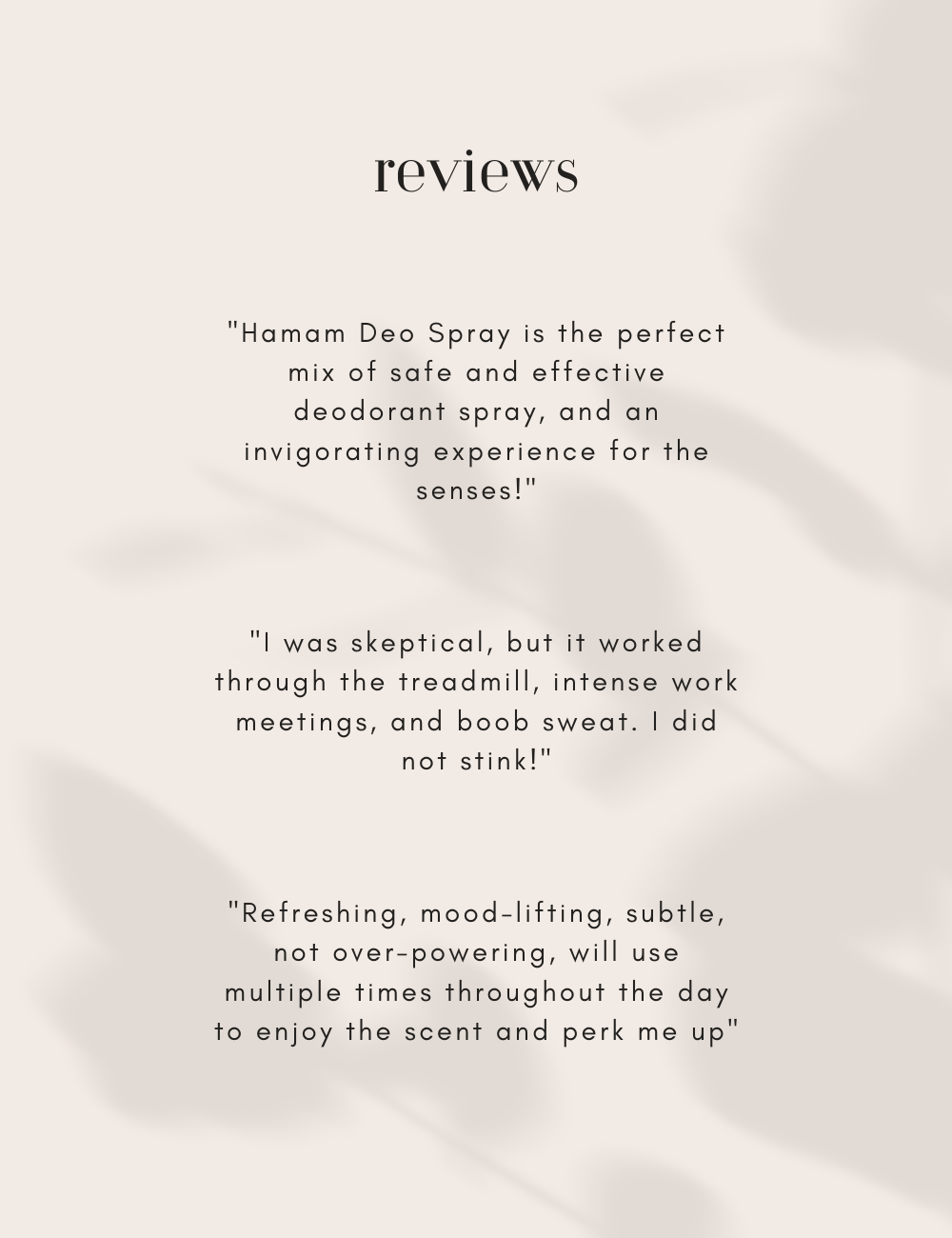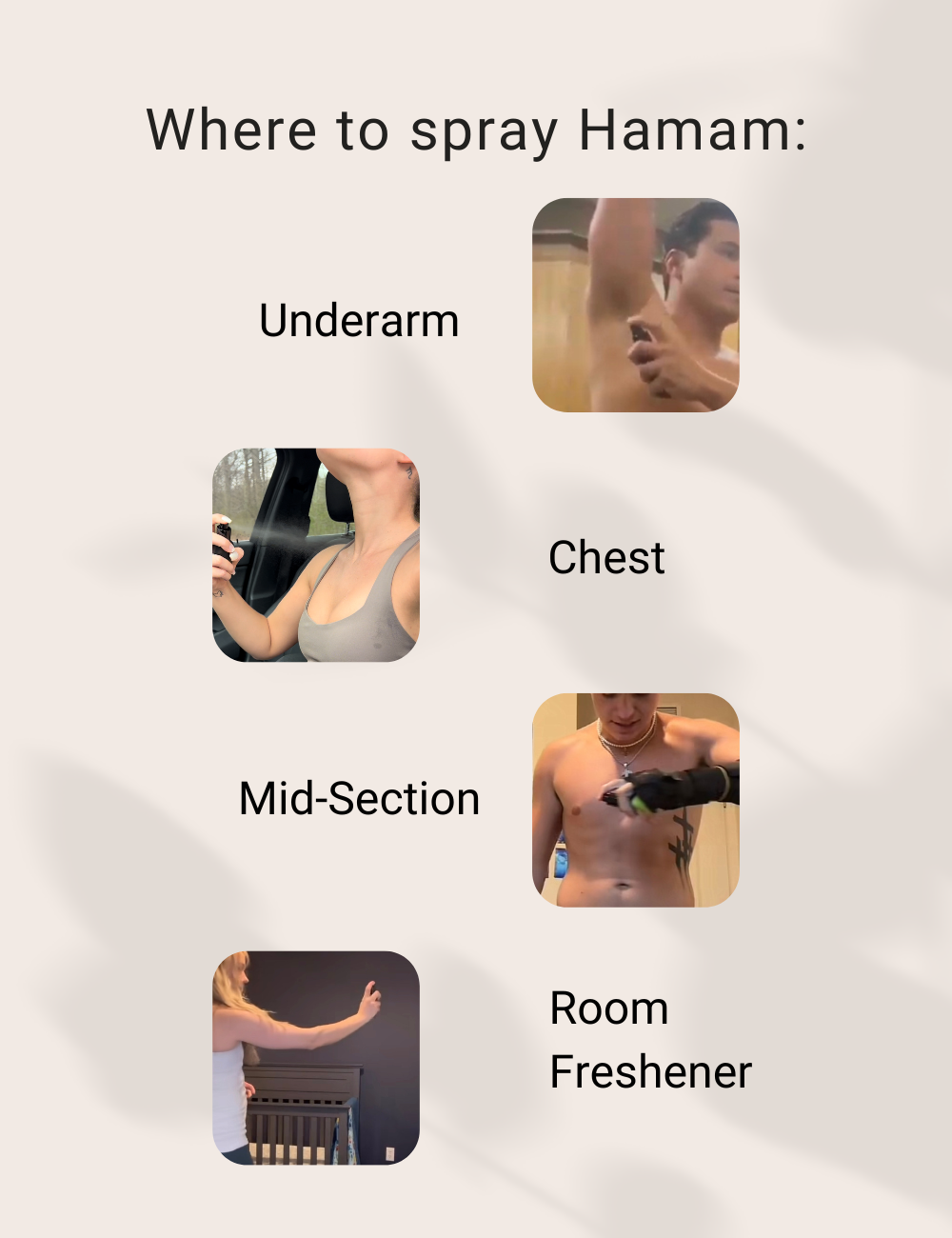 Sweet Cream & Vanilla Hamam Deo Body Splash
Creamy Madagascar vanilla blends with notes of toasted coconut and warm tonka for this cozy yet refreshing scent. 
Inspired by Roman baths, the ancient Hamam ritual dates back to the 14th century and is designed to purify and cleanse the body, mind and spirit. Like a "bath in a bottle", Esas Hamam Body Splash is scientifically formulated with the purest ingredients to cleanse, deodorize, and refresh wherever you go. 
BENEFITS:
Anti-Bacterial & Deodorizing
Esas DeoScent™ is a proprietary blend of ferments to effectively deodorize and protect against malodor
Non-Toxic
Non-toxic, organic, and Leaping Bunny Cruelty-Free
Sustainable
Recyclable glass bottles, biodegradable stone labels, and aluminum pumps
Hydrating 
Esas HydraScent™ is a complex organic blend of skin hydrating natural hyaluronic acid and coconut-derived glycerin
Anti-Oxidant Rich
Mood-boosting organic scents with antioxidant benefits for all skin types
INGREDIENTS
Certified Organic Botanical Alcohol*, Distilled Water, Witch Hazel*, Bioactive Silver, Coconut-Derived Glycerin*, Medium Chain Triglyceride*, Esas DeoScent™ Rice and Sugar Cane Ferment*,  Cassia Angustifolia Hyaluronic Acid, Burdock Root Tincture*, Vitamin E, Grape Leaf Tincture**, Upcycled Chlorophyll**, Coconut Pulp CO2*, Vanilla CO2*,  Tonka Bean and Sandalwood* Essential Oils; *Certified Organic and **Esas-Made
Disclaimer: For external use only. Hamam is made with high-quality all natural ingredients and is not allergen-free.  The ingredients are recognized as safe for the skin. As everyone has skin that responds uniquely, we advise users to patch test inside the elbow and read all ingredients before using.  Stop use if irritation occurs. 
PACKAGING
Our holistic and approach to beauty includes eco-friendly packaging
Glass re-fillable bottles, aluminum caps
Labels are made with biostone - not trees!
Compostable mailers.
Fliers made with 100% post consumer recycled paper with non-toxic ink
Sweet Cream & Vanilla Hamam Deo Body Splash
Nice, mixed feelings
Packaging is very nice. It smells very much like baking vanilla. Love the ingredients and ideas behind this brand…but the scent fades very quickly, it helps keep odor away some but not completely, I have to reapply throughout the day, a bit of a splurge. It is a nice product though.
Scentastic!
It is so nice to find a deodorant that not only works, but has clean ingredients and smells fantastic too!
Love the scent!!
Love this scent so much!! It smells so good and refreshing. It's sweet but not too sweet or overpowering. It's perfect!! I would love if they made a fragrance spray similar to this scent to go with this! Very happy with my purchase.
It Really Works for 24 Hours!
The natural and healthy ingredients are of course very important to me, but there exist many deodorants in today's market which feature this benefit. My issue with natural deodorants has always been its effectiveness in keeping me smelling clean. Just 1 or 2 sprays of this deodorant really does keep my armpits odor-free for 24 hours, and I am currently living in the hot and humid weather of Hawaii! I am so happy and relieved to have found my favorite line of deodorants. The Sweet Cream & Vanilla scent is amazing and I've already ordered the French Lavender as well to see how it compares. 100% Recommend you to try this for yourselves!
Ummmm… where have you been all my life?
I'm not a big review leaver, mostly because I seldom find something that wows me enough to write a review…. But this time I needed to let people know how impressed I am.
First, the packaging is immaculate. Not a speck of plastic to be found, all biodegradable or compostable materials right down to the tape used on the mailing package. This is an important touch that meant a lot to me.
Second, and most important, the products themselves are amazing and they WORK! They smell lovely but I was sure that once I started sweating heavily they wouldn't hold up against my natural funk… but imagine my surprise when they did. Now, don't get me wrong, in the middle of a long workout I get a little funky, but you'd have to stick your face in my armpit to smell me and afterward I reapply and it doesn't just cover the sweat it neutralizes it and I love it! Finally a spray deodorant that actually works, I'm a customer for life!