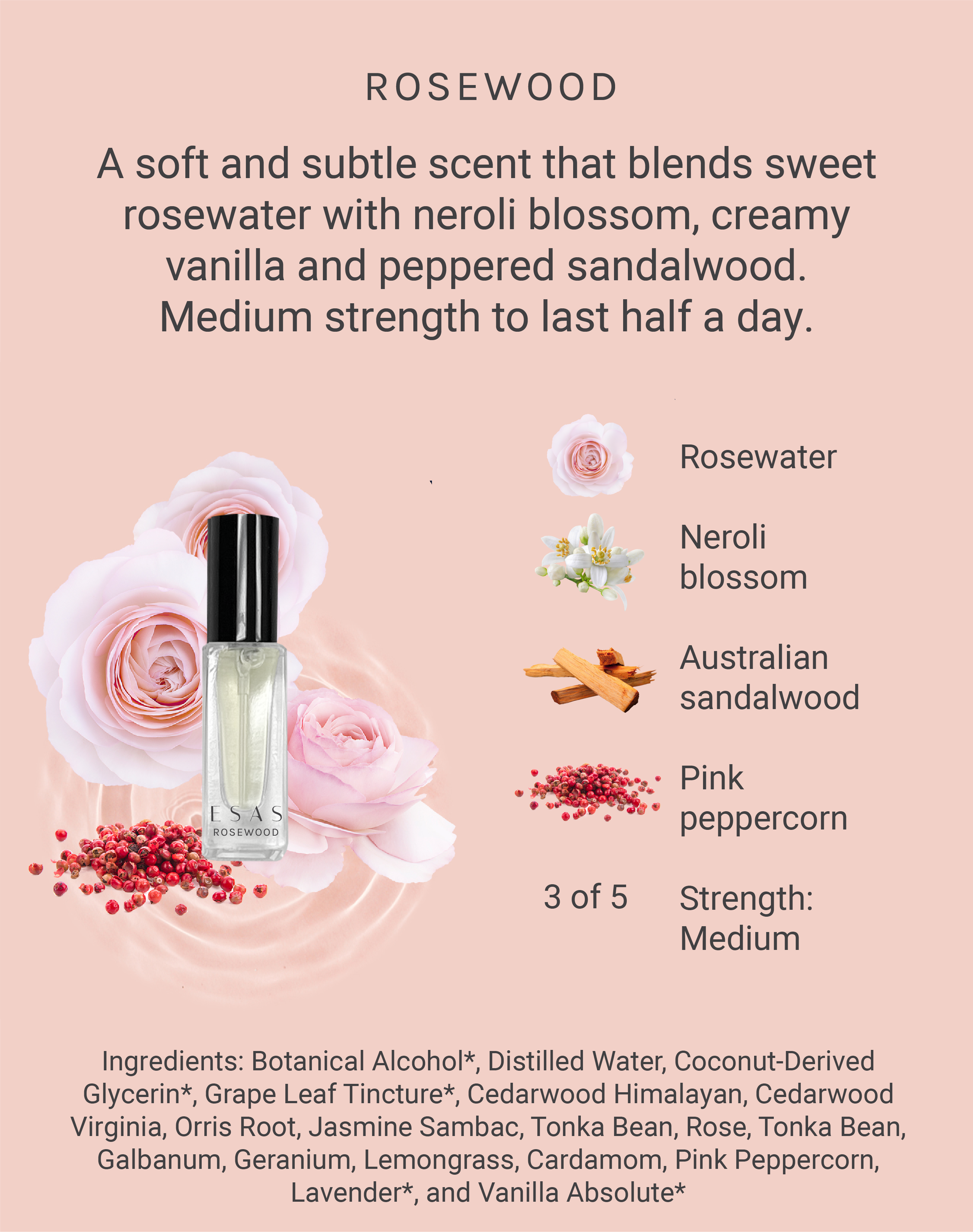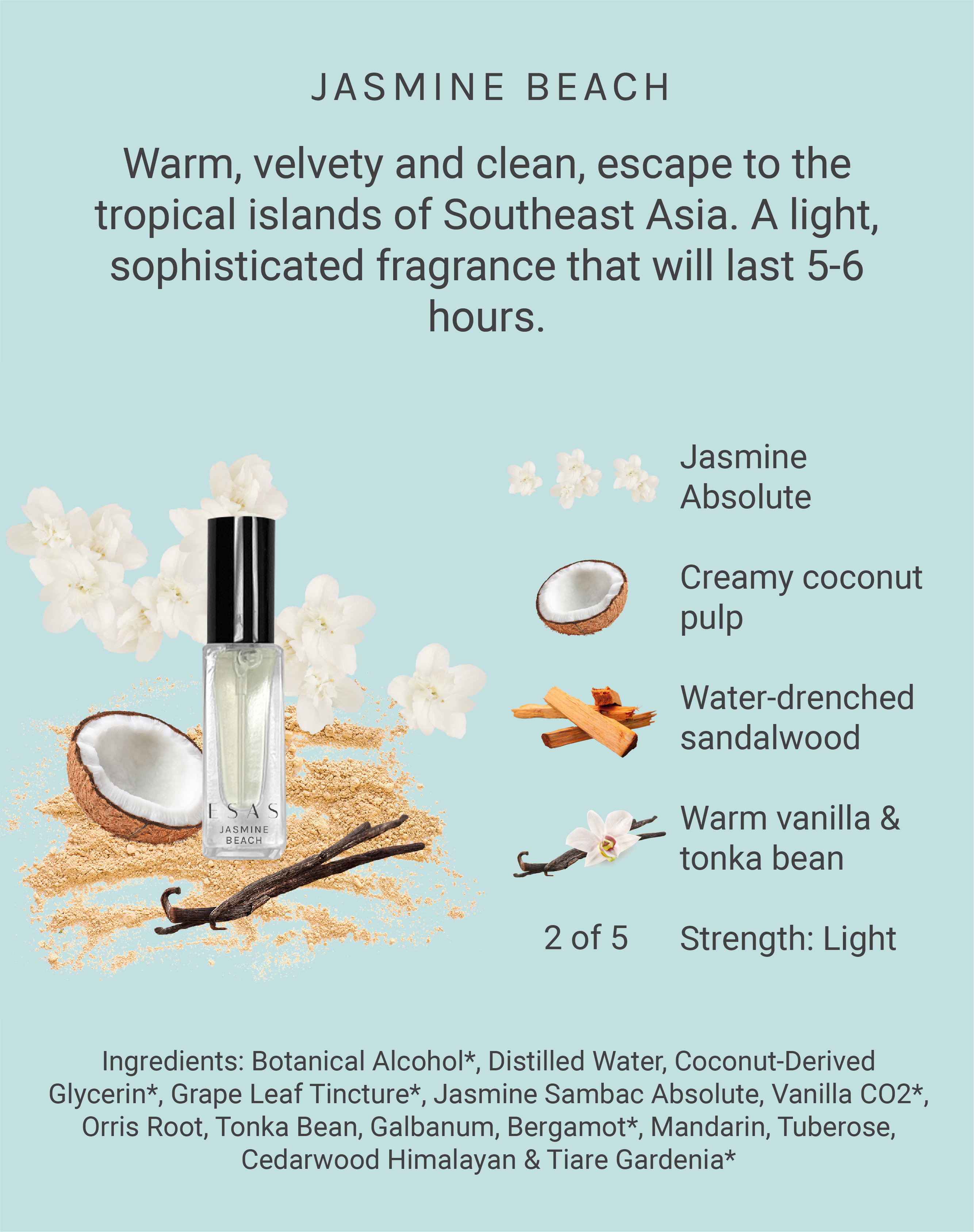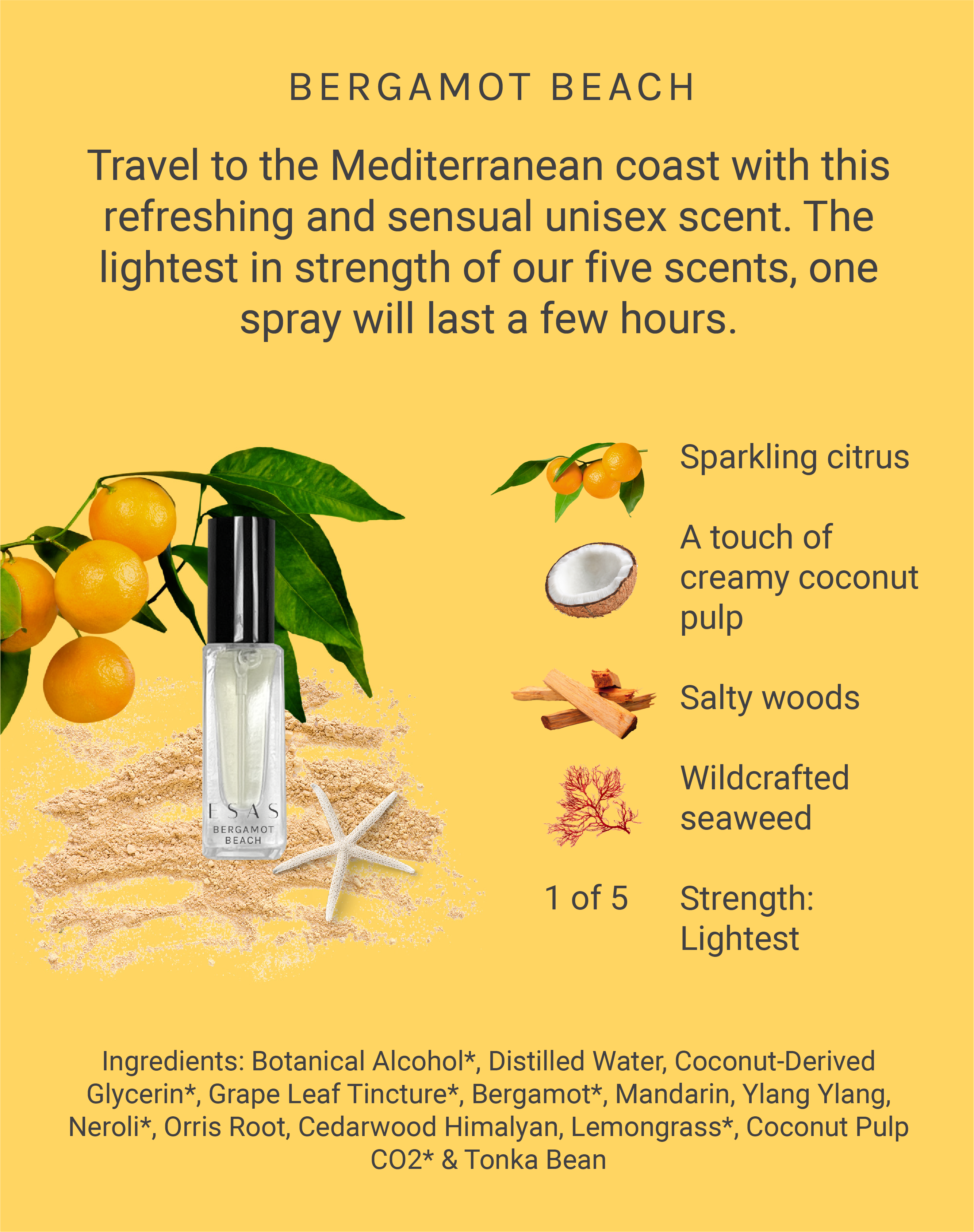 Hydrating Fragrance Mist Travel Size = 4 mL (30 sprays) each
Bundle = $75 Value
We wanted to make a fragrance that NOURISHES not dries our your skin. Moisturizing coconut glycerin, certified organic alcohol and free-radical fighting grape leaf extract hydrate the skin. 
JASMINE BEACH: Sensual jasmine floralcy with water drenched sandalwood create the perfect tropical escape to the islands of Southeast Asia.  Warm, velvety and clean, Jasmine Beach is a multifaceted and sophisticated fragrance that is reminiscent of a perfect summer night.
BARE: Our Bare fragrance was inspired by the scent of your loved ones skin after a long day on the beach. Clean, playful and flirty notes of succulent gardenia, sparkling citrus and fresh sage blend together beautifully to create this unforgettable scent.

BERGAMOT BEACH: Travel to the Mediterranean coast with this unisex scent.  Refreshing, sensual and addictive, fresh notes of sparkling citrus, a touch of creamy coconut pulp, salty woods and wildcrafted seaweed come together for a scent unlike any other.
ROSEWOOD:  A soft and subtle scent that blends sweet rosewater with neroli blossom, creamy vanilla and peppered sandalwood.
FEARLESS:  Fearless is an innovative scent formula that is unlike any other.  Specially formulated to empower and embolden the spirit deep within, it mixes with your body chemistry to create your own unique scent. Cozy and luxurious, Fearless is a vibe all of it's own. In the top of the fragrance, sensual and mysterious notes of pink peppercorn add a touch of cold freshness to woody earthy tones of cypriol.  Decadent middle notes of cocoa absolute, creamy coconut pulp and warm benzoin create an addictive and intoxicating aroma that envelop the subtle lush and watery floralcy of ylang ylang and violet leaf.  Bottom notes of pure vanilla and creamy sandalwood come together to gratify your most carnal desires.  
This fragrance entangles you into an experience that leaves you gratified yet wanting for more.
INGREDIENTS
JASMINE BEACH: Botanical Alcohol*, Distilled Water, Coconut-Derived Glycerin*, Grape Leaf Tincture*, Jasmine Sambac Absolute, Vanilla CO2*, Orris Root, Tonka Bean, Galbanum, Bergamot*, Mandarin, Tuberose, Cedarwood Himalayan & Tiare Gardenia*

BERGAMOT BEACH: Botanical Alcohol*, Distilled Water, Coconut-Derived Glycerin*, Grape Leaf Tincture*, Bergamot*, Mandarin, Ylang Ylang, Neroli*, Orris Root, Cedarwood Himalyan, Lemongrass*, Coconut Pulp CO2* & Tonka Bean
ROSEWOOD: B otanical Alcohol*, Distilled Water, Coconut-Derived Glycerin*, Grape Leaf Tincture*, Cedarwood Himalayan, Cedarwood Virginia, Orris Root, Jasmine Sambac, Tonka Bean, Rose, Tonka Bean, Galbanum, Geranium, Lemongrass, Cardamom, Pink Peppercorn, Lavender*, and Vanilla Absolute*
FEARLESS: Botanical Alcohol*, Distilled Water, Coconut-Derived Glycerin, Grape Leaf Tincture**, Coconut Pulp CO2*, Vanilla Absolute*, Benzoin, Violet Leaf, Ylang Ylang*, Cypriol, Cocoa Absolute, Pink Peppercorn, and Sandalwood*
BARE: Botanical Alcohol*, Distilled Water, Coconut-Derived Glycerin, Grape Leaf Tincture**, Tiare Gardenia*, Sage*, Bergamot*, Ylang Ylang*, Tonka Bean and Orris Root.
*Certified Organic and **Esas-Made
At cooler temperatures, the normally clear organic coconut extract may become opaque, but will clear again in room temperature with no affect on product and fragrance performance.
Disclaimer: For external use only. Esas Hydrating Fragrance Mists are made with high-quality all natural ingredients and is not allergen-free.  The ingredients are recognized as safe for the skin. As everyone has skin that responds uniquely, we advise users to patch test inside the elbow and read all ingredients before using.  Stop use if irritation occurs. 
PACKAGING
Our holistic approach to beauty includes eco-friendly packaging
Refillable glass bottle with aluminum cap
100% recyclable boxes with no added plastic lamination.
Compostable mailers
Fliers made with 100% post consumer recycled paper with eco-friendly non-toxic ink and are manufactured locally
Fragrance Travel Bundle
Smells amazing!
Loved this set so much I sent my sister a set for her birthday. The smells are delicious and so fresh and the best part is they are non toxic!
I'm a migraine sufferer, so wearing perfume or being around others wearing perfume has always been a challenge. When I saw this chemical-free perfume set I thought I would give it a try. Am I so happy I gave Esas the opportunity to prove that there is a perfume out there for me. I absolutely love all the scents! I'm a little obsessed with Jasmine Beach, so much so that I want to go work for this company to get a lifetime supply. The only downside is that people keep sniffing me which is ok because I get to tell them about this wonderful company. Thank You Esas!
Complex Fragrances AND Non Toxic?!
I'm obsessed. I've tried a bunch of non toxic perfume companies and while I admire so much what all of them are trying to do, it felt like they always smelled cheap. I think it was the overuse of their sugar cane alcohol or something… they just never smelled deep and complex like the big name perfumes. ESAS is the real deal!! First of all, I love how upfront they are about being a 100% non toxic brand. So many companies call themselves natural only to use fragrance or other mystery ingredients. ESAS puts the non toxic label as their main focus. I never have to wonder about their products. I've been looking for a sophisticated fragrance company that is completely trustworthy with their ingredients for so long 😭
Ok, onto the scent profiles and my first impressions (they were different than I was expecting, so def read these!!)
Bergamot Beach — smells like the Amalfi coast. Citrusy but not too sour— like lime peel and soft sweet coconut but not an overwhelming cheap coconut smell. All wrapped up in a floral blanket that's equally balanced with the deep citrus. I'm not into florals and don't like overly citrusy, and I really like this one. It's complex.
Jasmine Beach - super floral, very jasmine-y. It's just a sweet, very pure jasmine floral smell. Not my fave, but that's just because I'm not a floral girl. I can see some girls loving this!!
Bare - Fresh linen meets floral scent. Definitely giving a true fresh linen vibe. Like you rolled in dryer sheets that were more of a complex floral scent.
Rosewood— either my favorite or second favorite. Rose and Oud come out super strongly. This is a deep scent with lots of nuance. Almost kind of incense-y. I was picturing more of a musky sandalwood/patchouli type smell but it isn't. Not picking up too much on the sandalwood.
Fearless - it's not as sweet and creamy as I was expecting! I guess the fire imagery made me think warm vanilla sugar type— girl it's so not, but I'm glad! I can't put my finger on this one, but it's my favorite. It has a smell that makes me feel thirsty almost. Like I want to drink it, almost citrusy but not. Almost an oud-y fragrance but she's BRIGHT. It's sultry but bright, not sweet. I'm really not picking up on the vanilla or cocoa— that's not a bad thing, just don't mistake this one for a gourmand or sugary smell. It's way more complex.
All in all I'm so thrilled with all of these. I don't dislike any of them. I'm so so excited for whatever ESAS comes out with next. I'm a customer for life.
Fantastic clean scents
Very fun playing with the scents layering and love the Jasmine Beach and Bare on their own
Very clean and refreshing!
I love the ingredients this company uses. The scents are light and don't give me a headache like the other toxic fragrances.