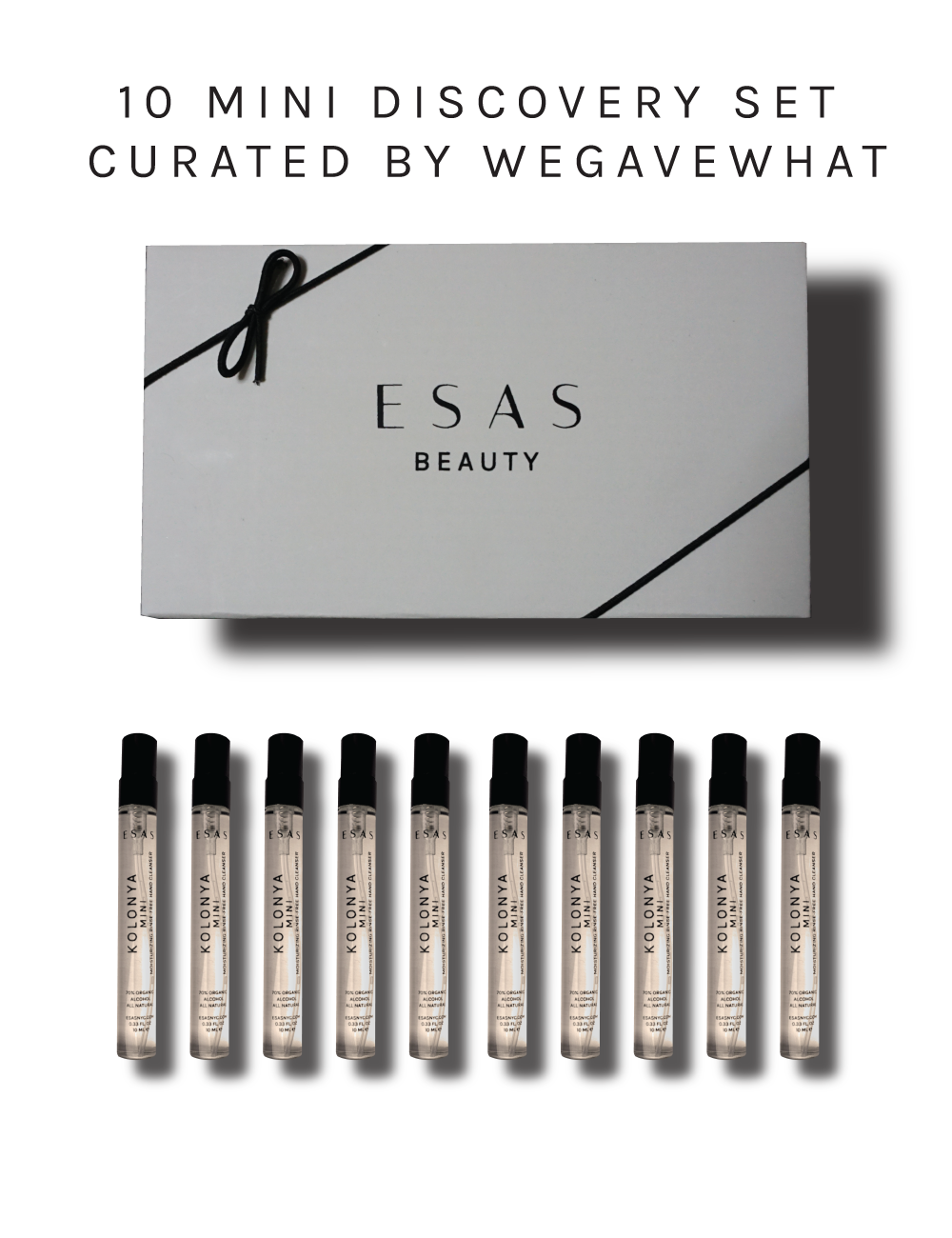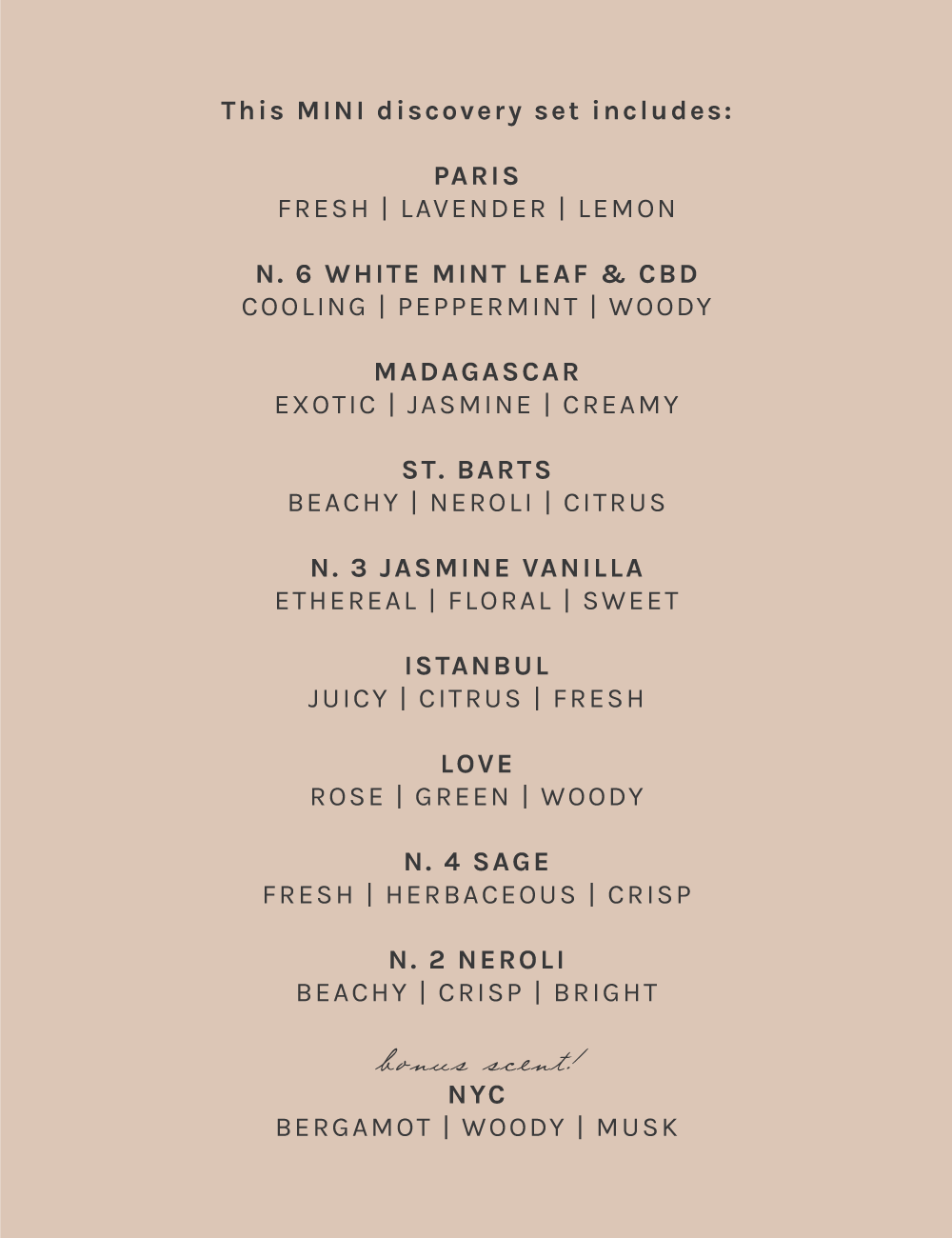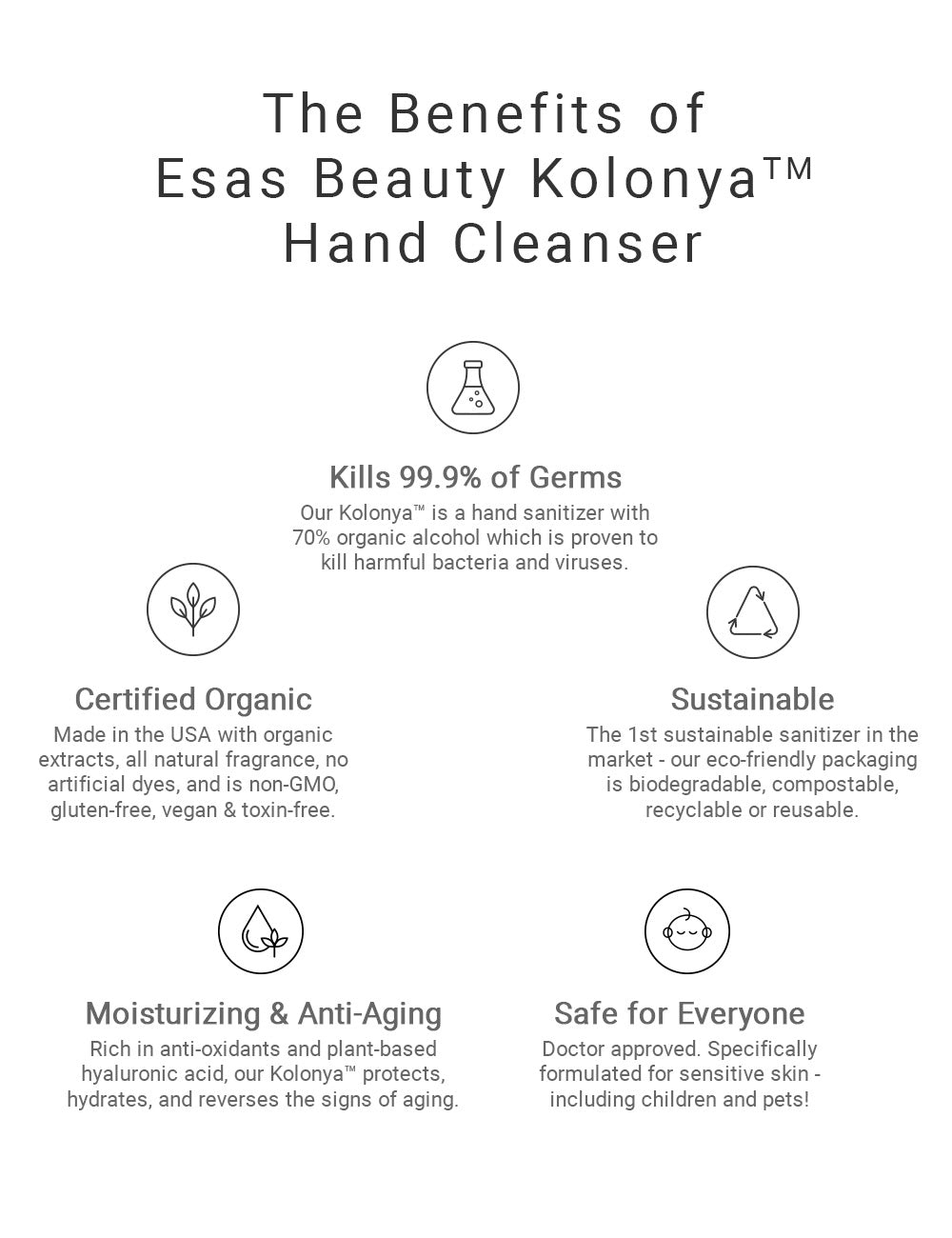 0.33 OZ MINI TRAVEL KOLONYA HAND CLEANSER DISCOVERY SET - CURATED BY WEGAVEWHAT
0.33 OZ Mini Travel Size Discovery Set - Curated by WeGaveWhat and WeWoreWhat Teams.

This MINI discovery set includes:
PARIS
FRESH | LAVENDER | LEMON

N. 6 WHITE MINT LEAF & CBD
COOLING | PEPPERMINT | WOODY

MADAGASCAR
EXOTIC | JASMINE | CREAMY

ST. BARTS
BEACHY | NEROLI | CITRUS

N. 3 JASMINE VANILLA
ETHEREAL | FLORAL | SWEET

ISTANBUL
JUICY | CITRUS | FRESH

LOVE
ROSE | GREEN | WOODY

N. 4 SAGE
FRESH | HERBACEOUS | CRISP

N. 2 NEROLI
BEACHY | CRISP | BRIGHT

bonus scent!
NYC
BERGAMOT | WOODY | MUSK

Your new 4-in-1 rinse-free hand cleanser, hydrating serum, anti-oxidant boost and refreshing mist in one!  
Esas Kolonya™ is inspired by the 200-year old noble Turkish ritual of welcoming guests by cleansing their hands as they entered the home.  
As seen in VOGUE, ALLURE, REFINERY29, and WHO WHAT WEAR, our kolonya is quickly becoming everyone's new favorite essential! 
BENEFITS:
Cleanse & Purify
Our Kolonya™ is a rinse-free hand cleanser with 70% organic alcohol which is proven to kill harmful bacteria and viruses.
Certified Organic
Made in the USA with organic extracts, all natural fragrance, no artificial dyes, and is non-GMO, gluten-free, vegan & toxin-free.
Sustainable
Sustainability is at the core of every process from formulation to packaging to shipping.  Our packaging is made with refillable glass, aluminum caps and reduced plastic.  Our shipping material is compostable - made from paper or corn starch!
Hydrating 
Rich in anti-oxidants and plant-based hyaluronic acid, our Kolonya™ cleanses without drying.
Safe for Everyone
Doctor approved. Specifically formulated for sensitive skin - including children and pets!
Traditionally, kolonya is poured into the palm.  An aluminum spray pump is included in case you prefer to dispense it that way.  Remove the two white plastic pieces from the bottle before inserting the pump.

30 Day Money Back Guarantee : We want you to be 100% satisfied with your purchase, and stand by the quality and efficacy of our products. Should you for any reason be unhappy with your purchase we will issue a refund via credit card or PayPal.  Learn more in our

 

Refund Policy. 
Refresh and reset all day long with your new multitasking  KOLONYA™.
INGREDIENTS
70% Certified Organic Alcohol*, Distilled Water, Colloidal Silver, Coconut-Derived Glycerin*, MCT oil, Cassia Angustifolia Hyaluronic Acid, Burdock Root Tincture*, Grape Leaf Tincture**, Upcycled Chlorophyll**, (Please see individual product page for each scent), *Certified Organic and **Esas-Made
PACKAGING
Our holistic and approach to beauty includes eco-friendly packaging.
Glass bottle that's refillable with aluminum cap

Labels are made with biostone - not trees!
Compostable mailers.
Fliers made with 100% post consumer recycled paper with non-toxic ink
INGREDIENT HIGHLIGHT
Grape Leaf Extract - made exclusively by Esas for Esas Kolonya™. Grape leaves are full of antioxidants and vitamins. They are a good source 

of Vitamin C, Vitamin E (Alpha Tocopherol), Niacin and Iron, Vitamin A, Vitamin K, Riboflavin, Vitamin B6, Folate, Calcium, Magnesium, Copper and Manganese.

Cassia angustifolia is a

 botanical, plant-derived form of Hyaluronic Acid. 

This botanical extract has been proven to deliver 4 times longer and more hydration than synthetic hyaluronic acid. 

Highly moisturizing, conditioning, plumps fine lines and wrinkles, reduces inflammation and promotes skin repair.

Chlorophyll - Esas made extract from upcycled basil and bok choy .  Packed with vitamins and minerals for your skin, c

hlorophyll helps create an environment that is inhospitable to the growth of germs lending itself to be antibacterial and anti-inflammatory. It's also known to heals wounds, reduces wrinkles and reverse aging, 

Burdock Root - 

High in polyphenols that have antioxidative and anti-inflammatory properties.  Active compounds like arctiin, lignans, have matrix-stimulating properties, which give you supple and younger-looking skin. It also fights acne and eczema due to its blood purifying activity.

Colloidal Silver - Our colloidal silver is third party tested to be safe, effective and regulated by the EPA. Silver has been used for more than 2000 years for its anti fungal and wound healing properties - currently used in hospitals for wound dressing.

  

The silver that turned people's skin blue were incorrectly made homemade mixtures that changed the silver compound dramatically. In addition, the colloidal silver we use is technologically advanced with strictly regulated nanoparticle sizes and purity with decades of testing and research.

Organic Botanical Ethanol - Our ethanol is made only with the highest quality locally sourced organic corn, cane sugar and botanicals.  Small batched and sustainably made, our organic ethanol is effective against germs and microbes. 
We can't believe we have to tell you this, but please don't drink our Kolonya™.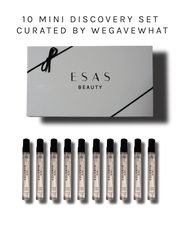 0.33 OZ MINI TRAVEL KOLONYA HAND CLEANSER DISCOVERY SET - CURATED BY WEGAVEWHAT
Amazing Hand Sanitizer!
I will never go back to using any other kind... I especially love this collection and all of the different fragrances.