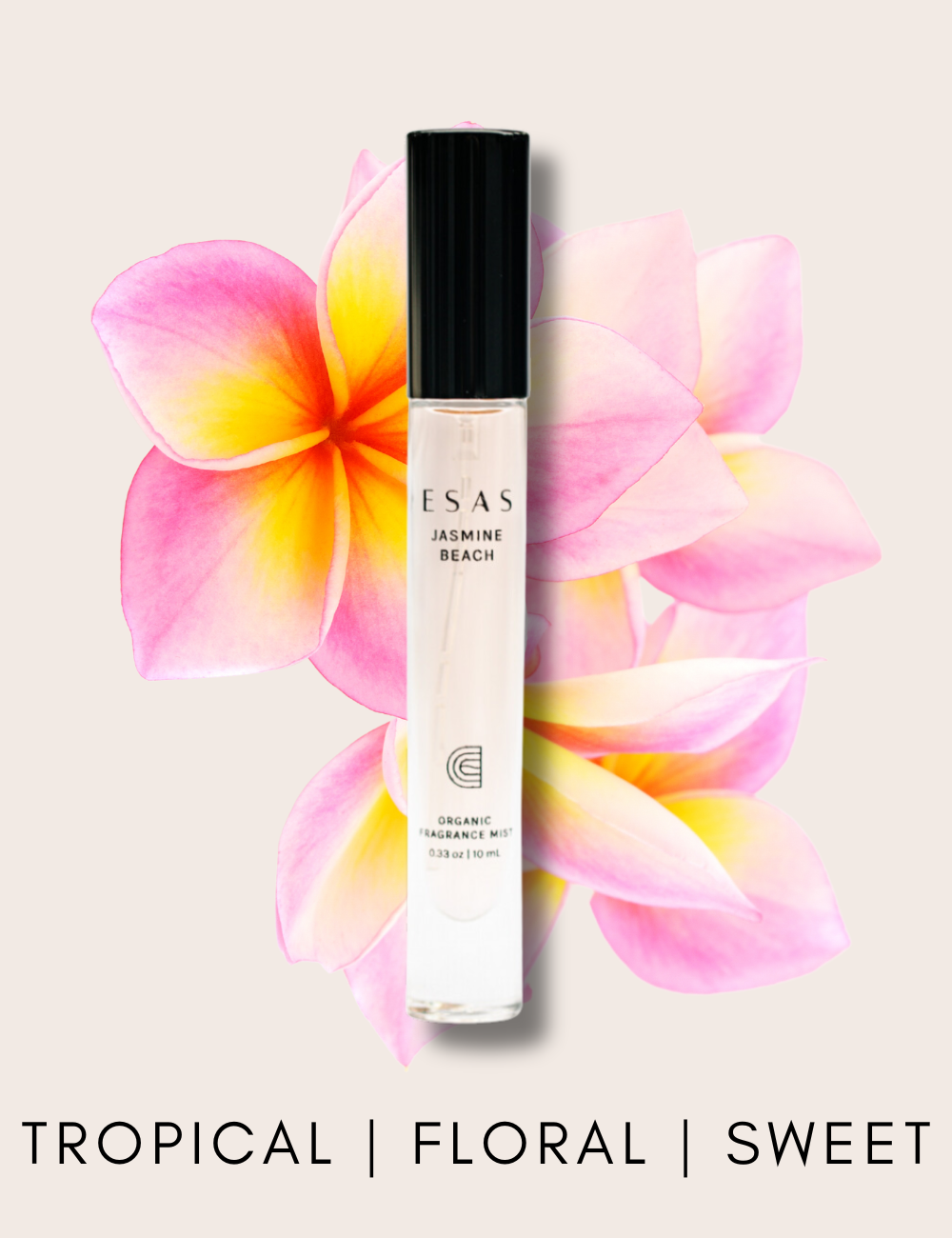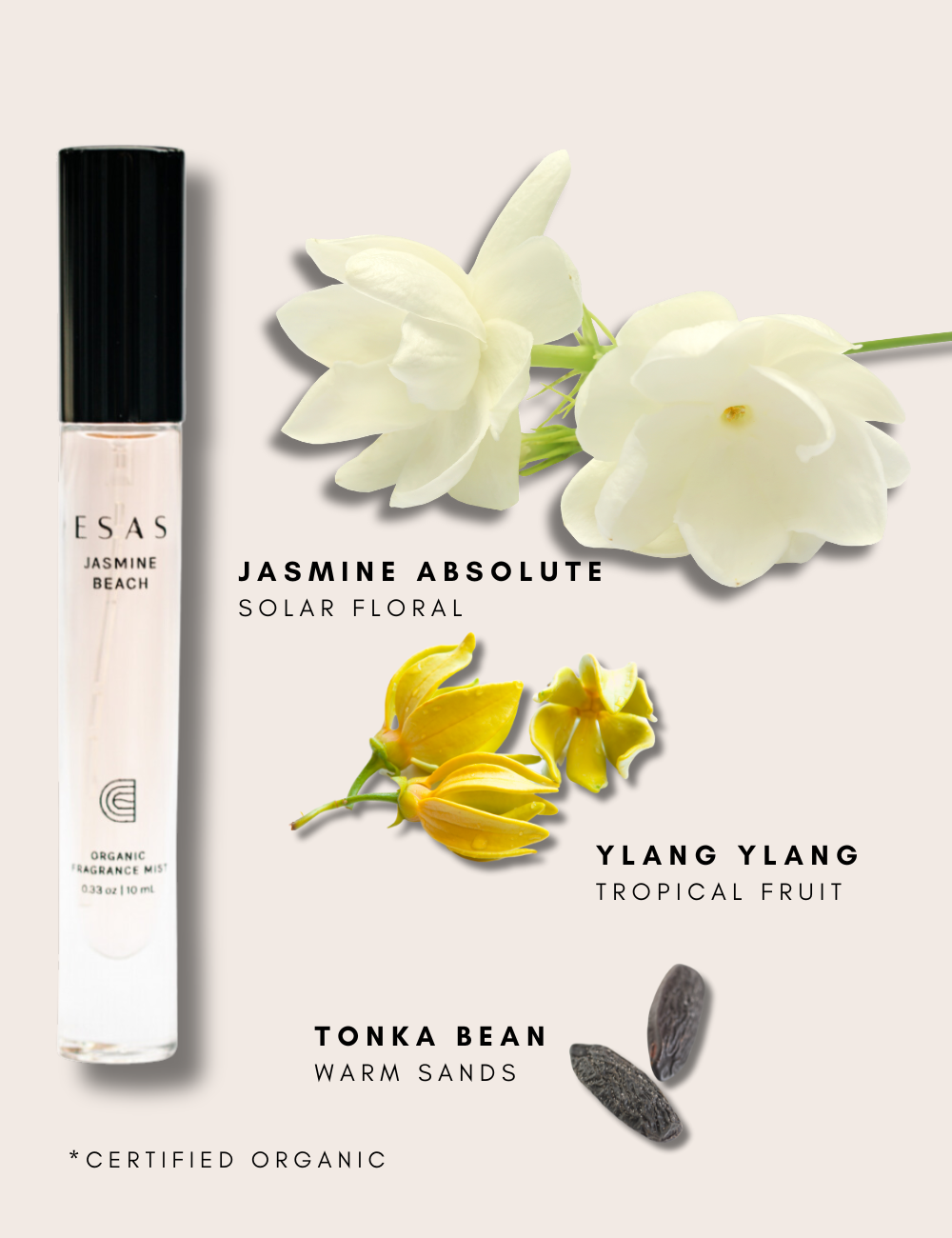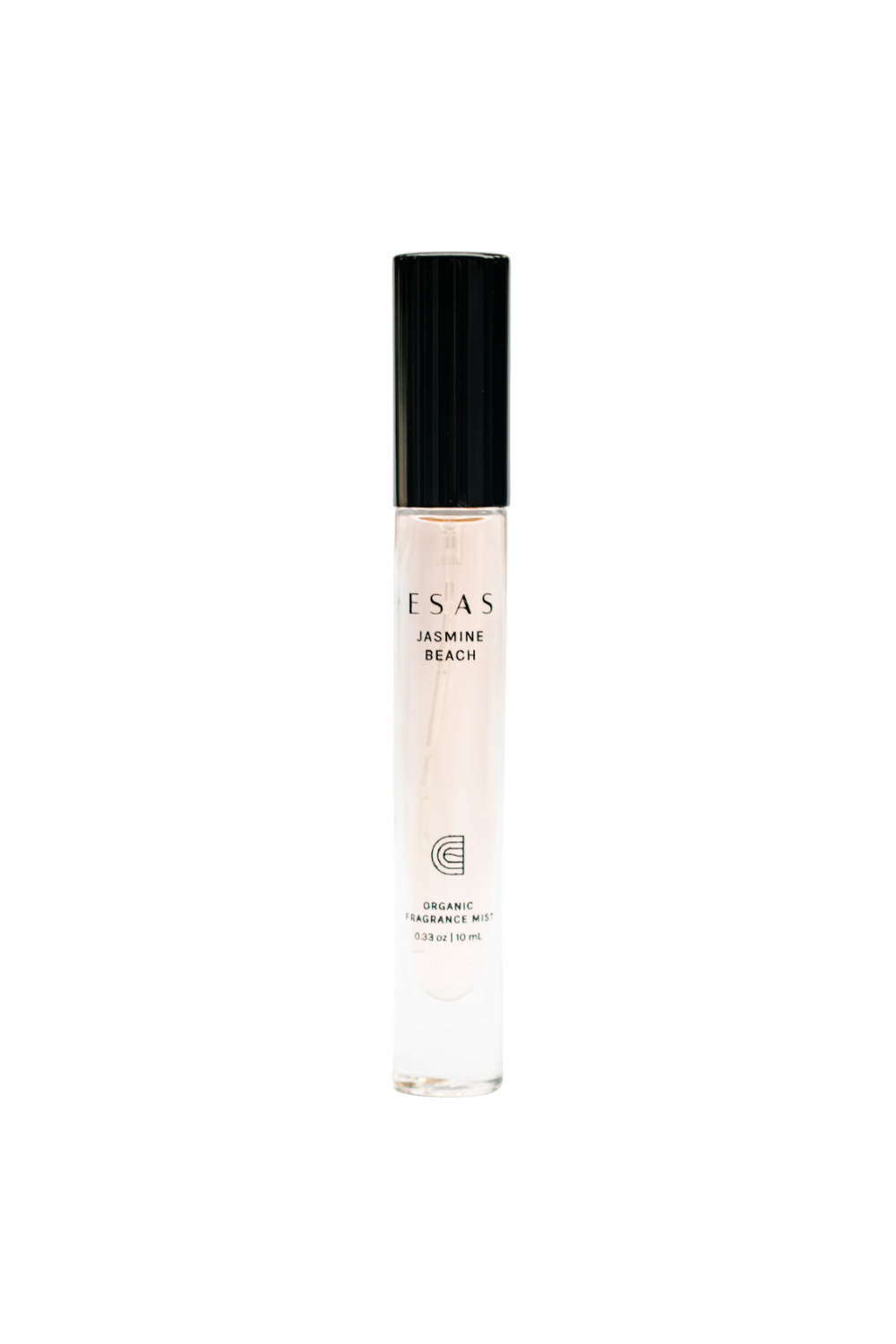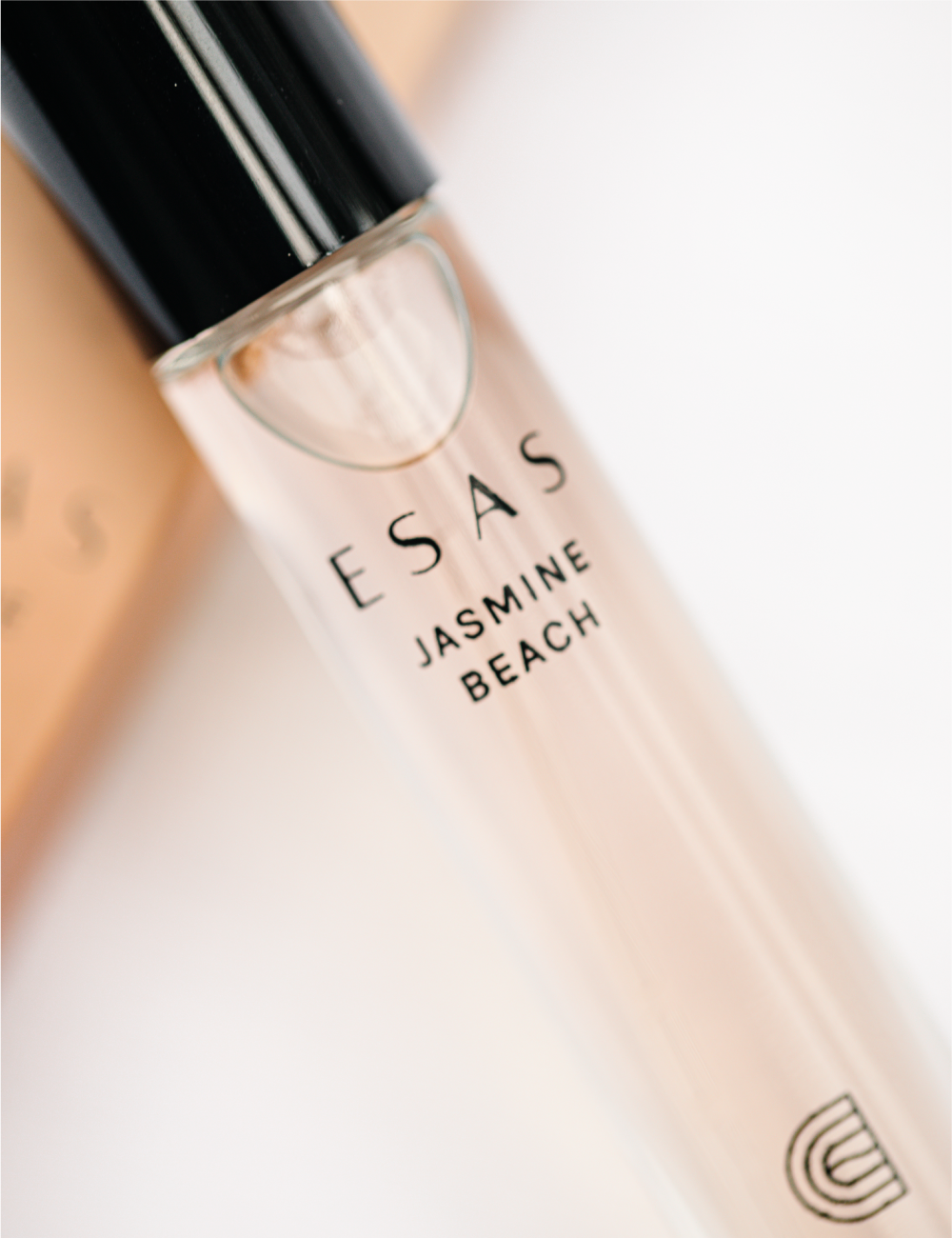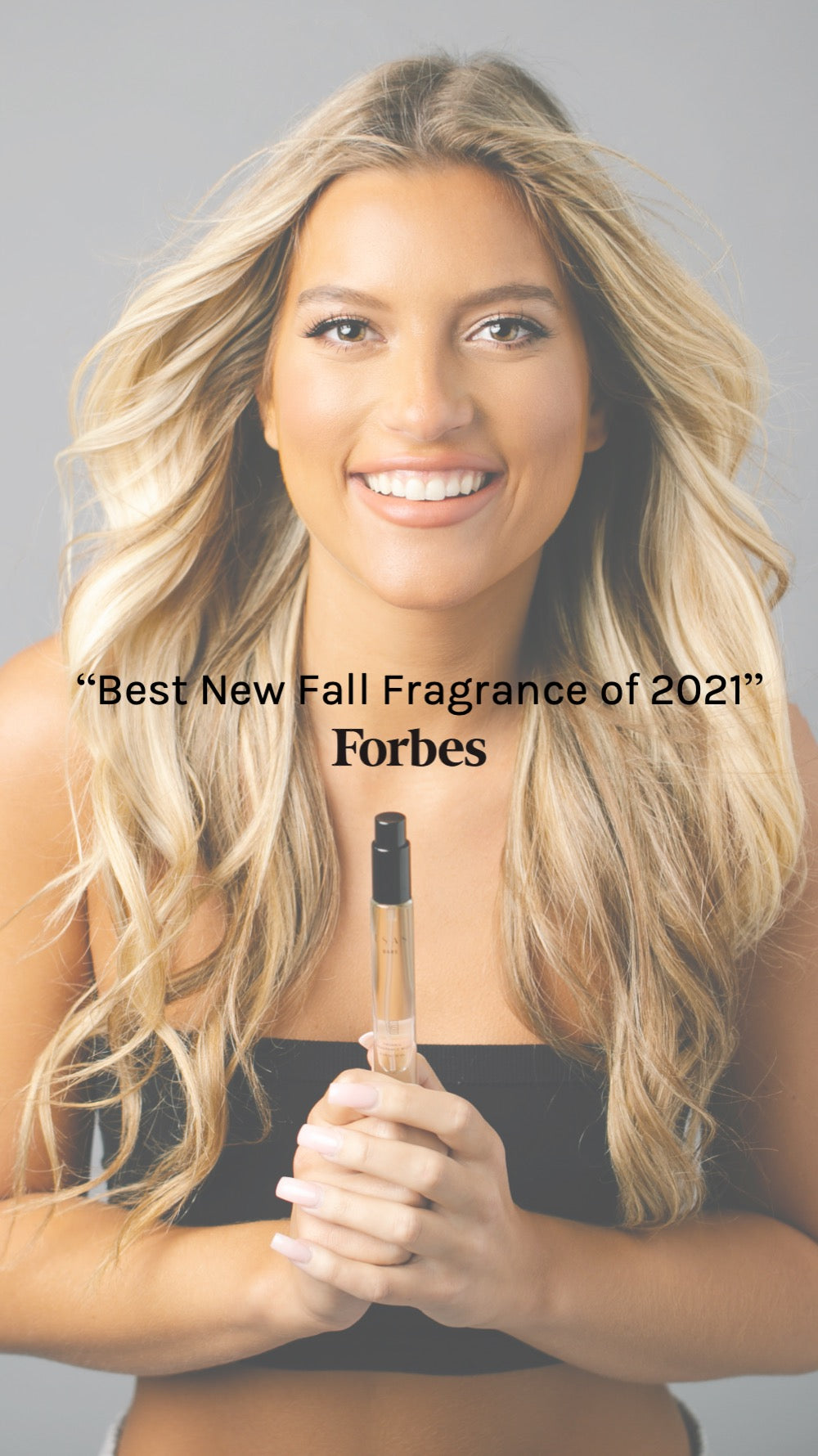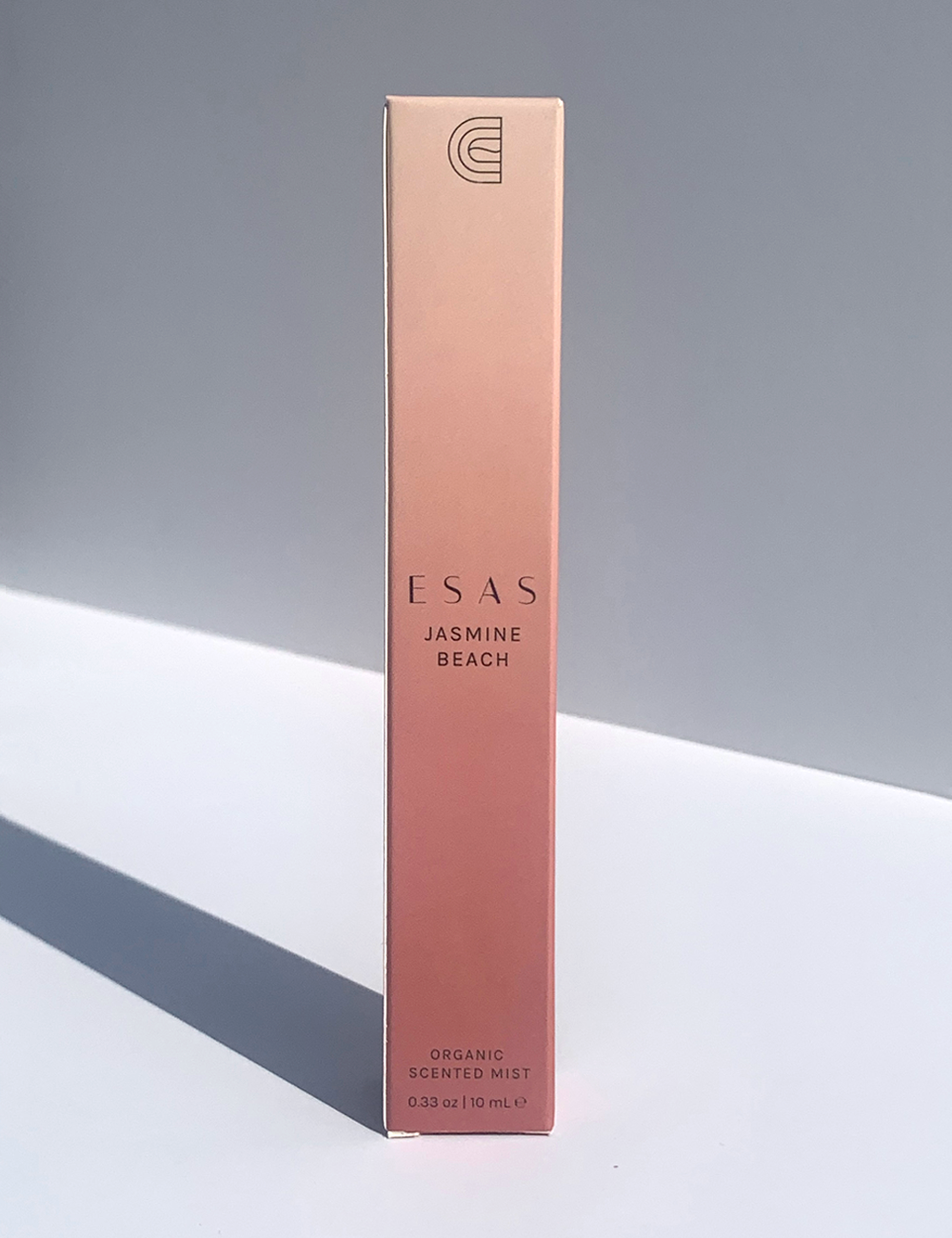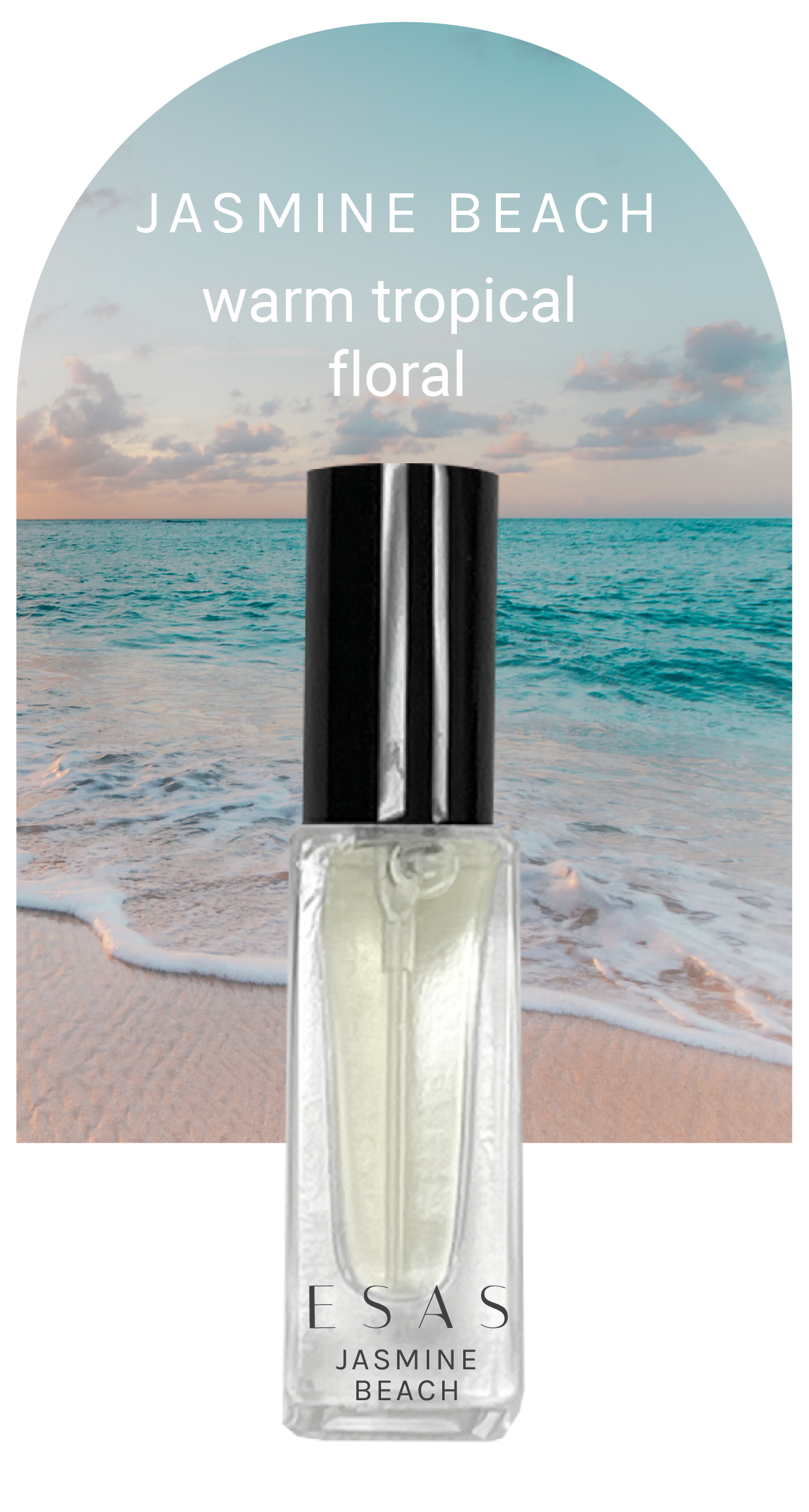 The first chemical free fragrance experience.
Sensual jasmine floralcy with water drenched sandalwood create the perfect tropical escape to the islands of Southeast Asia.  Warm, velvety and clean, Jasmine Beach is a multifaceted and sophisticated fragrance that is reminiscent of a perfect summer night.
As seen in WELL+GOOD - 10 Non-Toxic Perfumes that Don't Contain Skin Irritants : BEST CLEAN SCENT - "If you're into something a little more subtle, Jasmine Beach has a really nice warm, clean, and escapist vibe," according to Esas Beauty founders Seda Bilginer and Amanda Sichon, whose entire fragrance line is "scientifically formulated with 100 percent natural and organic ingredients and full transparency." With top notes of mandarin, lavender, and seaweed; middle notes of jasmine, ylang-ylang and coconut; and base notes of orris root, tonka, and sandalwood, Jasmine Beach evokes the feeling of dangling your feet off the dock in the heat of summer."
As seen in FORBES - The Best New Fall Fragrances of 2021 - "Pretend you're on the shores of a gorgeous beach in Southeast Asia, with the warm water lapping at your toes, and you have Esas Jasmine Beach. The vacation effect is delivered by jasmine mingling with sandalwood."
As seen in PARENTS MAGAZINE - 21 Best Beauty Gifts - "The sophisticated scent of Esas Beauty Jasmine Beach Organic Scented Mist is like a mini vacation in a bottle."
INGREDIENTS
JASMINE BEACH = Botanical Alcohol*, Distilled Water, Coconut-Derived Glycerin*, Grape Leaf Tincture*, Jasmine Sambac Absolute, Vanilla CO2*, Orris Root, Tonka Bean, Galbanum, Bergamot*, Mandarin, Tuberose, Cedarwood Himalayan & Tiare Gardenia*
*Certified Organic and **Esas-Made
At cooler temperatures, the normally clear organic coconut extract may become opaque, but will clear again in room temperature with no affect on product and fragrance performance.
Disclaimer: For external use only. Esas Hydrating Fragrance Mists are made with high-quality all natural ingredients and is not allergen-free.  The ingredients are recognized as safe for the skin. As everyone has skin that responds uniquely, we advise users to patch test inside the elbow and read all ingredients before using.  Stop use if irritation occurs. 
PACKAGING
Our holistic approach to beauty includes eco-friendly packaging
Refillable glass bottle with aluminum cap
100% recyclable boxes with no added plastic lamination.
Compostable mailers
Fliers made with 100% post consumer recycled paper with eco-friendly non-toxic ink and are manufactured locally
Drop a hello at hello@esasnyc.com
Send us a text at 1 (844) 542-0456
Or mail at P.O. Box 934, Saddle Brook, NJ 07663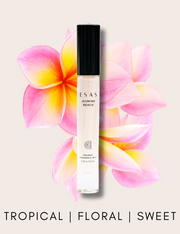 Jasmine Beach Fragrance
floral and subtle
I really like this scent. I am trying to find a natural, non-toxic scent to wear daily. I do like this one, but as some others mentioned, the scent does not last long and used it up very quickly (that is why I took off one star).
Jasmine Beach
I love the fact that it's a clean product - this is my first clean perfume. I was excited to try it, but unfortunately, I don't love the scent, it's too flowery, and it will not be my go-to perfume, even though it's made with cleaner ingredients. Please let me know if you have any perfumes that are more tropical or fruity.
Jasmine beach
A true floral summer dream of a scent! Love it!
Very pretty scent
Very very subtle and pretty scent…unfortunately doesn't last very long on me (maybe two hours tops) so I went through the sample very quickly. Lasted about seven days. Definitely not something I could keep up with financially because I would need to buy the full size probably once every 2 months.
Soft and floral
I tried a sample size of this beautiful perfume and just love the soft jasmine scent that lingers on my skin! Just lovely!